The Trojan Alphabet Book
Designed for Trojan fans everywhere (whether they know it yet or not). The Trojan Alphabet uses University of Southern California football history and traditions to introduce the alphabet to young USC Trojan fans. A tribute to the USC Trojan football team, each of the 26 letters in the alphabet is represented with an informative rhyme and colorful illustrations. The Trojan Alphabet will bring back memories for fans and alumni, while instilling the Trojan spirit in children.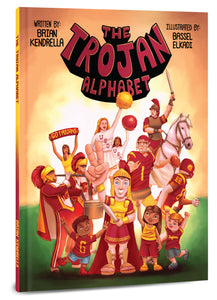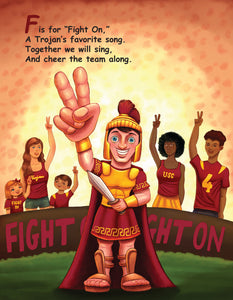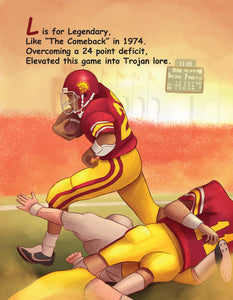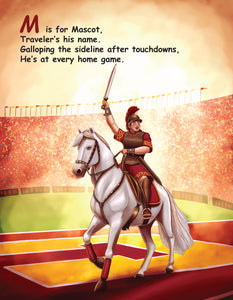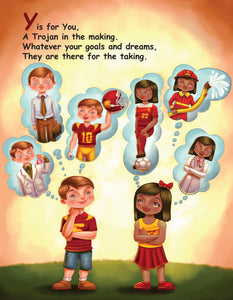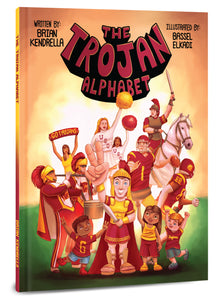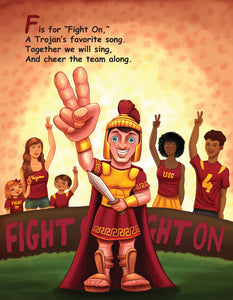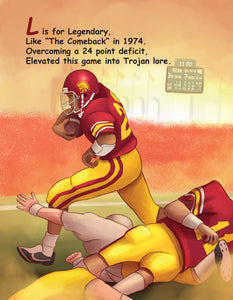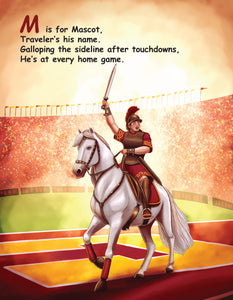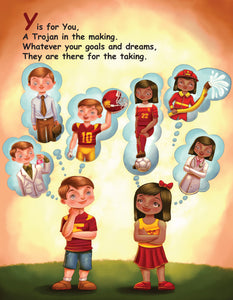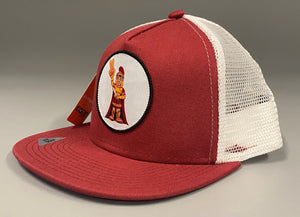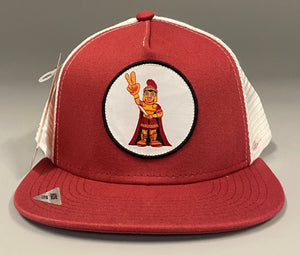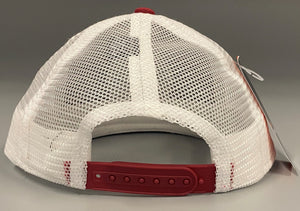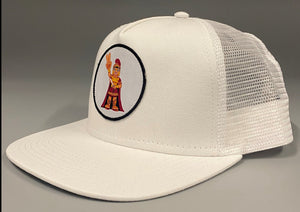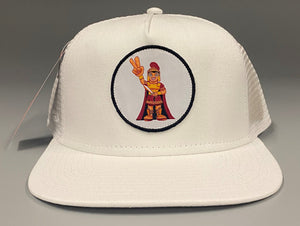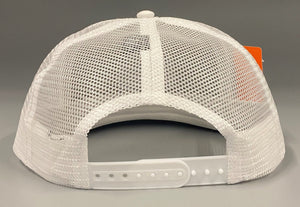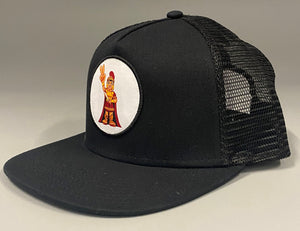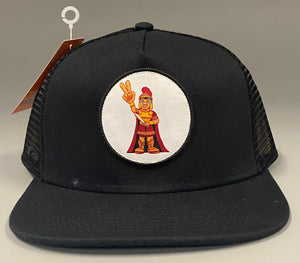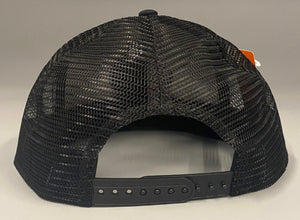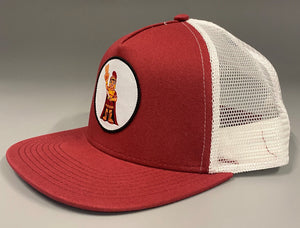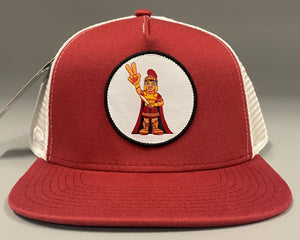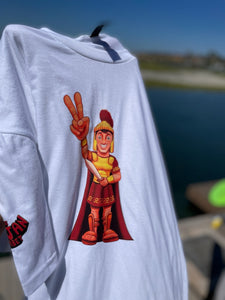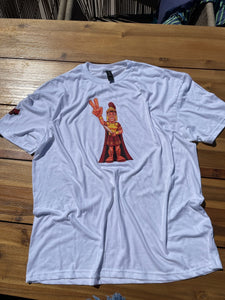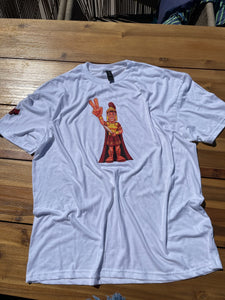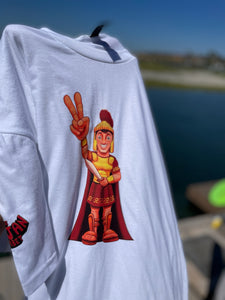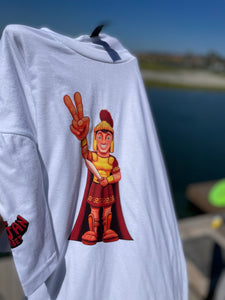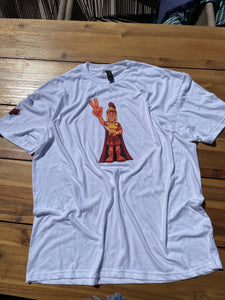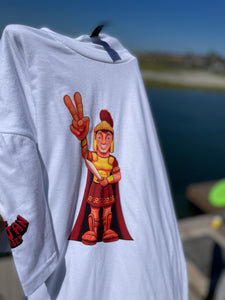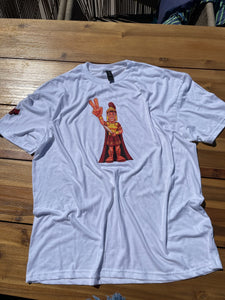 Reviews
Fight On! This book is darling and my only issue is that it wasn't around when my kids were little! I love the illustrations and the sense of history. My dad was at SC when George Tirebiter was alive but by the time I was there, no one really knew about him. Now he has his own statue on campus and my son and I have a photo with George. I can't wait to give this to my BFF's daughter who went to USC when she is expecting a baby. We are the Trojan Family, after all.
-Patricia M.
Touches my Trojan Heart. Each page brings the emotion of Trojan football, and provides a moment to talk with the next gen about great coaches, players, games, song girls, spirit leaders, mascots, and traditions. I remembered my dad talking about ol' Tirebiter chasing after cars.
- C. Williams
My child loves The Trojan Alphabet! Great book! My child absolutely loves The Trojan Alphabet! It's an entertaining and engaging book that takes kids into the history and traditions of USC and its historic football program. Very clever and well written with outstanding illustrations! I highly recommend it to any youngster who is a sports fan or simply wants a fun way to learn the alphabet or new words. Nice job Mr. Kendrella!
- C. Anderson
Great for all ages and wonderfully written. Awesome book that helps teach kids not only the alphabet but about USC. Winner
- Customer
Coach them Early! Our 3 yr old son loves the "Football book"! The writing and illustrations are wonderful. Fight on!
- R. Fleming
I just got mine and I love it! If you are a true Trojan, I promise you will love it as well!
- @usclatina
I love it! I bought one for my kids and one for my brother who graduated from UCLA.
- @angelsfan1522
About the Author
Brian graduated from the University of Southern California in 2005, earning a degree in Business Administration with a dual emphasis on Corporate Finance and Investment Markets.
While at USC, Brian enjoyed the nearly unparalleled success of coach Pete Carroll's Trojans, including two National Championships, three Heisman Trophies and an undefeated 2004 season.
Today, Brian lives in Newport Beach, CA and is married to his college sweetheart Erin. They have two boys, Colin and Bryce, with a third on the way. This book was created for them.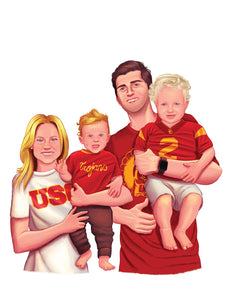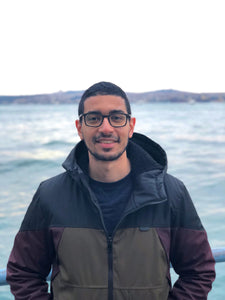 About the Illustrator
Bassel Elkadi has been drawing ever since he could hold a pencil. Growing up, his favorite thing to do was to look at the bright illustrations in children's books and imagine illustrating his own stories. While he acquired his Doctorate in Civil Engineering, Bassel continued to improve his drawing skills with several fine art courses. Besides working as a research assistant during his engineering studies, he created several character designs and visual development projects. He also illustrated many children's books for other authors. After his daughter Sofia was born, Bassel renewed his determination to achieve his childhood dream by writing and illustrating his own children's books.
To see more of Bassel's artwork and learn about his creation process, you can visit his website www.basselelkadi.com.
 Contact us at bkendrellaTAB@gmail.com